MOSO® bamboo toplayer for raised flooring
The toplayer is a 1-ply bamboo tile which can be pressed onto a support panel. Elevated panels are ideal for application as computer flooring in offices or a gym, and all other places where cables and wires run beneath and are covered by the elevated flooring.
High wear resistance and hardness
The computer flooring toplayer has a very high wear resistance because of its hardness (especially in High Density®) and it is pre-finished with BONA Naturale Project lacquer (6 layers, anti-scratch and anti-abrasion, 125 g/m2, gloss 5-10%).
MOSO toplayer is available in the natural and caramel colors in 3 styles: plain pressed, side pressed and High Density®. In many countries MOSO has a partner that can deliver the toplayer pressed onto various kinds of panels, depending on the required fire class, hardness and weight of the final product.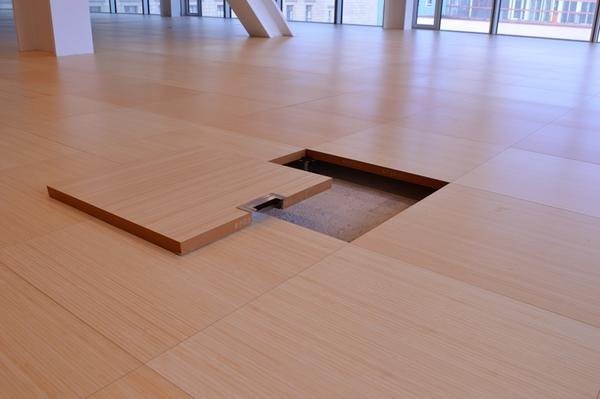 Benefits
CO2 neutral

MOSO has commissioned Delft University of Technology to execute an official LCA...

Contribution LEED & BREEAM

Additional credits for the leading green building certification programs...

Indoor emissions - E1

For a healthy indoor climate it is important that products used indoors have very low emissions...

Fire safety - Class Cfl-s1 (EN 13501-1)

The fire safety of flooring products can be classified ranging from...