Infinite number of possibilities
MOSO® Bamboo N-finity are solid bamboo beams or slats that are impregnated for outdoor use. MOSO® Bamboo N-finity can be produced in various dimensions, and is available up to a maximum length of 5800 mm. The extraordinary length is achieved by connecting the strips with a special patented hook connection.
Highest durability class
A special impregnation process provides MOSO® Bamboo N-finity the highest biological durability class* possible, following EU norm EN 350. The beams or slats can be used for numerous outdoor applications.
*) Durability Class 1 following EN350 / CEN/TS 15083-1, Use Class 3 following EN335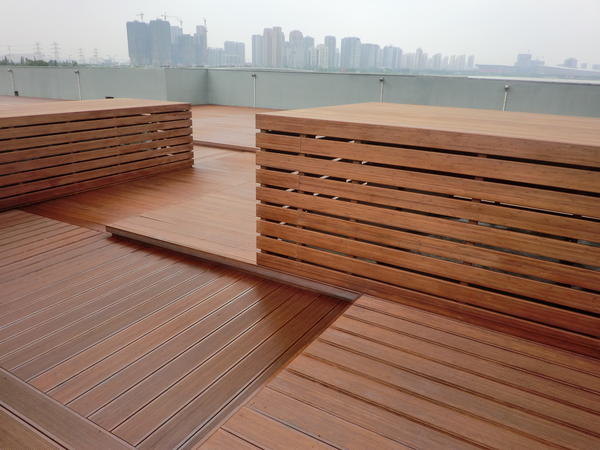 Cladding boards
Bamboo is very suitable for cladding, thanks to its tropical hardwood caracteristics. The MOSO® Bamboo N-finity cladding boards are available in two standard lengths, and on request even in lengths up to 5800 mm. The trapezium shaped boards can be installed with screws. Like any untreated tropical hardwood species, when exposed to outdoor conditions, MOSO® Bamboo N-finity cladding and beams will turn grey over time, creating a very natural look.
Bamboo outdoor furniture and more
We provide the final size of the molding products, like the shutter and furniture component is ideal applications. MOSO ® bamboo bamboo infinite series square stock normal length is 2 meters, but can be according to the demand, the longest 5800 mm. We could do MOSO bamboo timber ® infinite series outdoor bamboo laminate has been through mechanical properties test (bending, stretching, compression, shear force), at the same time also can be used for building beams.
Benefits
Durability - Class 1

Outdoor bamboo with durability rating 1 (EN350) tested under EN113...

Contribution LEED & BREEAM

Additional credits for the leading green building certification programs...

FSC®-certified (on request)

FSC® is globally recognized as the best and most stringent sustainable forestry certification...

Use Class 3

Class 3 in accordance with EN335 (use/risk class)...

more about bamboo products in different use classes